glitchNES
2009-2010
glitchNES is an open source software project for the Nintendo Entertainment System. This software causes graphical glitches similar to hardware circuit-bending. The current version is 0.2. To download it, click here to visit the software page.
glitchNES 0.1 has been exhibited three times over the past year or so, in the US, Spain, and Belgium.
READY>RUN was an exhibition that ran from September to December 2009 at the Esther Klein Art Gallery in Philadelphia, Pennsylvania. READY>RUN explored the chip music scene and featured audio and visual works by a number of US based artists.
Playlist ran from December 2009 to May 2010 in Gijon, Spain at the LABoral Centro de Arte y Creación Industrial. Playlist largely explored the 8-bit art moment, but also focused on more general use of obsolete technologies to create new works of art.
Playlist: Brussels was an exhibition that ran from June to August 2010 at iMal, Brussels, Belgium. Selected artists' work from the previous Playlist were shown side by side with new works from additional artists from around the world.
In each show, a Nintendo Power Pad was used to control the software, as seen in the pictures below.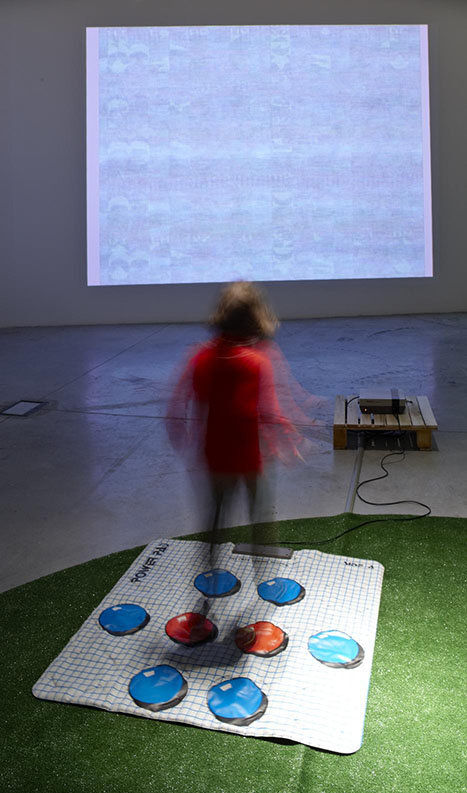 glitchNES, Playlist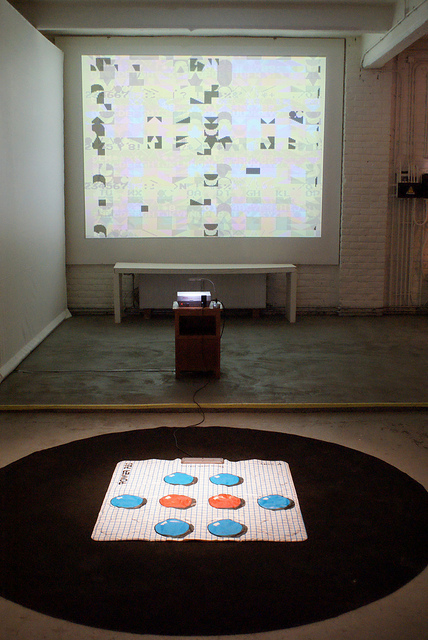 glitchNES, Playlist: Brussels

glitchNES label, READY>RUN